IMPORTANT NOTICE - PLEASE READ
Tallaght University Hospital are in the process of arranging the COVID vaccine to be provided to Group 4 patients between 18-69 years of age in the Citywest vaccination centre. The Hospital will communicate with patients via text message to advise on same.
Any queries regarding health issues can be communicated to your relevant medical team or nurse specialist.  We also have an email address for queries: cwvaccination@tuh.ie  
Please bring your PPS number and photo ID to the clinic in Citywest.
The Citywest mass vaccination clinic is very efficient, most patients will be there for approximately 40 minutes including the necessary observation period.  Free parking is available.  The Citywest vaccination clinic is in a position to be flexible if there are requirements around a date change, provided the Hospital has sent the patient details in advance.
People, caring for people...
We are the sum of our experiences and we are here to care for you.
We are here to care for you, when you need us, all 3,000 of us with the expertise, specialities and equipment to deliver exemplary care. It's about people caring for people and with every interaction at Tallaght University Hospital, healthcare moves on just another little bit. From the day to day routine procedures, to ground-breaking new ones, we have a wealth of skills and resources at your service.

Read More About Us Join Our Team   
Due to COVID-19 there is no visiting allowed.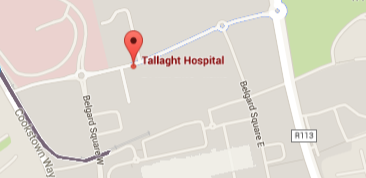 The Hospital is situated in southwest Dublin and is easily accessible by car, bus or Luas. It is close to the M50 motorway and the N81

Click on the button below to book your Appointment
Easy route to some of our most frequently viewed pages

Click on the button below to go to Video Consultations
Tallaght University Hospital TV
For all TUH videos, click on this link