People, caring for people to live better lives...
Emergency Department Update
Tallaght University Hospital says high numbers attending the Emergency Department is putting services under pressure.
The Hospital is asking those with non-urgent conditions to consider all other care options.
The Hospital remains committed to treating everyone who presents at ED, however it will do so in order of medical priority. Given the volume of patients currently attending ED, the hospital regrets there are lengthy delays and long wait times for those who do not need urgent treatment. We are asking the public to consider alternative care options before attending the ED, as unfortunately people with less urgent complaints will experience long wait times.  
For those who are not in need of urgent attention, GP and GP Out of Hours services and pharmacies may provide more appropriate healthcare in a more comfortable setting.
Here is a list of other care and treatment options;
Out of Hours Urgent GP Services
DUBDOC provides out-of-hours urgent GP Services in Dublin 2, 8, 10, 12, 20, parts of D6 and West Co. Dublin. Patients can contact the service by calling 01 454 5607.
The TLCDOC GP Out of Hours Service is an urgent out of hours family doctor service operating in the Dublin South West Area. TLC Doc is located Unit H2 Carbury Building, Tallaght Cross West, Tallaght, Dublin 24. Eircode D24FKT7.
Contact with the service can only be made by dialing the 1890 20 22 24 number. The service is available to patients of GP's participating in the TLCDOC Out of Hours Service. If, on contacting the service, you need to be seen by a doctor, you will be given an appointment time.
The service should only be used for urgent cases that cannot wait for the next routine surgery appointment.
We are the sum of our experiences and we are here to care for you.
We are here to care for you, when you need us, all 3,000 of us with the expertise, specialties and equipment to deliver exemplary care. It's about people caring for people and with every interaction at TUH, healthcare moves on just another little bit. From the day to day routine procedures, to ground-breaking new ones, we have a wealth of skills and resources at your service.
Visiting to the Hospital is from 2pm-4pm and 6pm-8pm.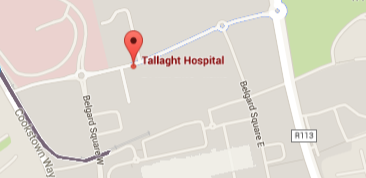 The Hospital is situated in southwest Dublin and is easily accessible by car, bus or Luas. It is close to the M50 motorway and the N81

Click on the button below to book your Appointment
Easy route to some of our most frequently viewed pages

Click on the button below to go to Video Consultations
Tallaght University Hospital TV
For all TUH videos, click on this link