PUBLIC ANNOUNCEMENT PLEASE READ 
TUH is taking a phased approach to re-opening out-patients to patients who need to attend. In accordance with national guidelines we continue to work on providing services in a different way, such as virtual clinics or phoning patients where possible.

All patients will continue to be contacted by the Hospital about their appointments or planned admission. Please do not attend for your Hospital appointment unless you are contacted to do so.

All non-essential day case procedures and admissions continue to be postponed until further notice. You will be contacted by the Hospital's Admissions Office to reschedule.

For the safety of our patients and staff the No Visiting Restrictions continue. No children are permitted to visit the Hospital or campus under any circumstances unless it is for an outpatient appointment.

From this week the following new safety measures are being implemented for patients who need to attend for an outpatient appointment.

• Patients are being asked to attend no more than 15 minutes before their scheduled appointment time, to ensure safe social distancing and to avoid over-crowding. Please follow the directions of staff and floor markings through the clinics
• Attend on your own if possible, no more than one person may accompany a patient for an appointment

If you have a temperature or are feeling unwell, please do not attend for your appointment and phone your GP. If you are worried about any urgent symptoms like chest pain or signs of a stroke please attend an ED or call 999 or 112.

This is a new way of working for us all and we ask for your patience as we plan and deliver care to our patients in accordance with national guidelines during the COVID-19 Pandemic.
Visiting restrictions continue at the Hospital
We would like to remind everyone that at the moment the Hospital is not permitting ANY visitors. We appreciate this is difficult for patients and their families but we are doing this in the very best interests of the patients and staff caring for them.

Our Patient Care Package service is open seven days a week between 2pm-4pm. We appreciate your co-operation with our efforts to keep everyone safe and ask you to please share this reminder with people that are not on social media.
For more information on COVID-19 please see the HSE website here or call the HSE helpline on 1850 241 850. Thank you for your cooperation. #TUHworkingtogether
People, caring for people...
We are the sum of our experiences and we are here to care for you.
We are here to care for you, when you need us, all 3,000 of us with the expertise, specialities and equipment to deliver exemplary care. It's about people caring for people and with every interaction at Tallaght University Hospital, healthcare moves on just another little bit. From the day to day routine procedures, to ground-breaking new ones, we have a wealth of skills and resources at your service.

Read More About Us Join Our Team   
General visiting times
2pm-4pm & 6:30pm-8:30pm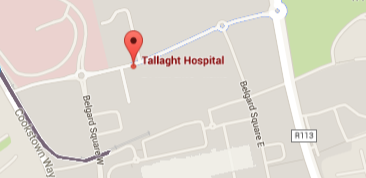 The Hospital is situated in southwest Dublin and is easily accessible by car, bus or Luas. It is close to the M50 motorway and the N81

Click on the button below to book your Appointment
Easy route to some of our most frequently viewed pages
Video Consultations

Click on the button below to go to Video Consultations
Tallaght University Hospital TV
For all TUH videos, click on this link