SIPTU Strike
While services hospital-wide will be disrupted with some anticipated delays caused by this action, patient safety remains the priority of the Hospital and it will be monitored throughout the strike. Patients are advised to attend their scheduled appointment as planned, unless contacted by the Hospital directly and advised otherwise. The Hospital apologises for any inconvenience caused during this time.
People, caring for people...
We are the sum of our experiences and we are here to care for you.
We are here to care for you, when you need us, all 3,000 of us with the expertise, specialities and equipment to deliver exemplary care. It's about people caring for people and with every interaction at Tallaght University Hospital, healthcare moves on just another little bit. From the day to day routine procedures, to ground-breaking new ones, we have a wealth of skills and resources at your service.  
General visiting times 2pm-4pm & 6:30pm-8:30pm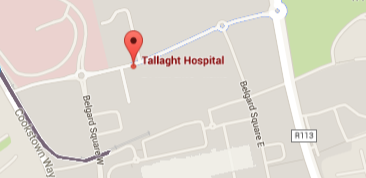 The Hospital is situated in southwest Dublin and is easily accessible by car, bus or Luas. It is close to the M50 motorway and the N81
Easy route to some of our most frequently viewed pages

Click on the button below to book your GP Appointment
Tallaght University Hospital TV